Annie Armstrong Week of Prayer: Day 2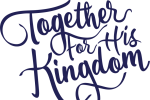 James and Natarsha Roberson
Brooklyn, New York
James Roberson knows the importance of moving out of his comfort zone. As an SBC church planter, he and his wife, Natarsha, moved their family to unfamiliar Brooklyn to plant The Bridge Church.
When settling into the neighborhood, James trusted the Lord to open the right doors for him. "I just opened up the book of Acts and tried it," he says. One day while prayerwalking, James passed by Long Island University, Brooklyn, a campus with no evangelical presence for seven years. He put his hand on a building and prayed, "God, would you open a door on this campus for me or someone else?" As he walked into the foyer, two students were arguing, one of them yelling, "Yes, He is." When this student saw James approach, she turned to him and asked, "Do you believe Jesus is the Son of God?" After this amazing encounter, a few meetings in the Dean's office and God's orchestration of events, Pastor James now has an on-campus student ministry called Ignite. Learn more about the Robersons' ministry at AnnieArmstrong.com/Roberson.
Pray: The student ministry Ignite will grow into a self-sustaining, worshipping community, and The Bridge Church will create a pipeline of leaders. God shows you how to be sensitive to the needs of those around you (Philippians 2:4).